Soild Fuel Fired Thermic Fluid Heater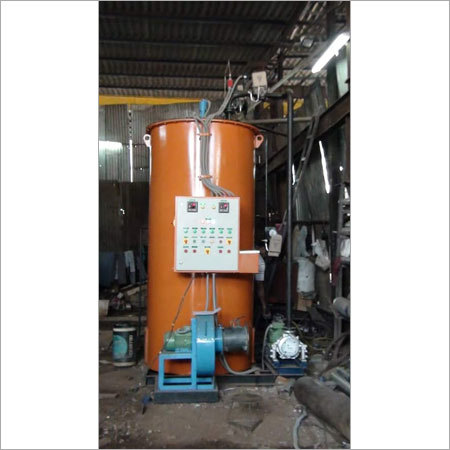 Soild Fuel Fired Thermic Fluid Heater
Price And Quantity
Unit/Units, Unit/Units, Unit/Units

100000.00 INR
Product Description
UNIQUE THERMAL HEATER
UNIFIRE Thermal heating system consists of twin units, a radiation chamber and a convective chamber.
The fuel burnt on stationary grate produces radiant heat, which is absorbed by radiant coil. The residual heat is than passed on to the convective zone of concentric coils, where maximum heat is absorbed.
The design guarantees a very low contamination as well as easy cleaning of the gas side-heating surface.
The FD fan & ID Fan provided ensures optimum combustion with low excess-air. Ash cleaning doors are provided for both the chambers. The unit is skid mounted, refractory lined & supplied with ready to use conditions, which reduces the erection time at site.
UNIFIRE SYSTEM ADVANTAGE:
OPERATION WITHOUT PRESSURE: A thermal fluid system can function between 100 C and 350 C without any pressure increase. By way of comparison, the use of steam at 320 C requires a pressure
greater than 110 bar and far more complex equipment. Thus UNIFIRE low-pressure system ensures high efficiency, high safety and low cost.
NON-CORROSIVE SYSTEM: The UNIFIRE system requires mineral oil as heat transfer media, which is non-corrosive and free from any foreign particles. This ensures low maintenance cost and higher reliability.
NO EXPLOSN RISKS: UNIFIRE offers low thermal inertia, low pressure system and with fully automatic safety trips ensures fully safe operation.
NO BOILER REGULATION: UNIFIRE heater is outside the purview of Indian Boiler regulations and therefore eliminates the need for annual shut down.
SAFETY AND CONTROLS:
UNIFIRE system provides following safety inter lockings.
NOTE :
Fuel Consuption is based on wood having calorific Value of
Wood 3500 K-cal/Kg,
Coal -5500 K-cal/Kg,
Briquette - 4000 K-cal/Kg
The efficiency is guaranteed with clean internal and external heating surface.
We reserve the right to alter or change specifications without prior notice.
Technical Specification

UTH Series, Thermic Fluid Heater
| | | | | | | | | |
| --- | --- | --- | --- | --- | --- | --- | --- | --- |
| Model | UTH-10 W | UTH-20 W | UTH -40 W | UTH -60 W | UTH -100 W | UTH 150 W | UTH -200 W | UTH -250 |
| Heat Output - K-cal/hr | 1,00,000 | 2,00,000 | 4,00,000 | 6,00,000 | 10,00,000 | 15,00,000 | 20,00,00 | 25,00.00 |
| Max. Temperature C | 300C | 300C | 300C | 300C | 300C | 300C | 300C | 300C |
| T - C | 40C | 40C | 40C | 40C | 40C | 40C | 40C | 40C |
| Flow M3/h | 5 | 10 | 20 | 30 | 50 | 75 | 100 | 125 |
| Head mc | 50 - 55 | 50 - 55 | 50 - 55 | 50 - 55 | 50 - 55 | 50 - 55 | 50 - 55 | 50 - 55 |
| Thermal Efficiency | 70% | 70% | 70% | 70% | 70% | 70% | 70% | 70% |
| Fuel (Wood) - Kg/hr | 40 | 80 | 165 | 245 | 400 | 610 | 815 | 1020 |
| Coal - Kg/hr | 26 | 52 | 104 | 156 | 260 | 390 | 520 | 650 |
| Briquetted - Kg-hr | 30 | 60 | 125 | 190 | 320 | 480 | 635 | 890 |
| Connected Load - KW | 40 | 4.5 | 80 | 140 | 200 | 310 | 400 | 540 |
| Thermic Fluid Content in | 150 | 260 | 480 | 640 | 1200 | 1680 | 2400 | 3000 |
| the Coils-Ltrs | | | | | | | | |
| Expansion Tank Size - Litres | 200 | 200 | 500 | 500 | 1000 | 1500 | 1500 | 2000 |
| Inlet/Outlet size - mm | 40 | 50 | 65 | 80 | 100 | 125 | 150 | 150 |
| Dry Weight - Tons | 2.2 | 3.2 | 5.2 | 6.2 | 7.4 | 8.8 | 100 | 120 |
| Overall Dimension - Mtr | | | | | | | | |
| Length | 1.2 | 1.4 | 1.6 | 4.2 | 4.8 | 5.5 | 60 | 6.8 |
| Width | 1.2 | 1.4 | 1.6 | 20 | 2.3 | 2.6 | 2.8 | 3.2 |
| Height | 20 | 3.2 | 40 | 4.8 | 5.4 | 60 | 7.2 | 80 |
Outlet temp High - Audio Visual Alarm with ID Fan / FD Fan Trip.
Inlet temp high - Audio Visual Alarm
Expansion Tank level low - Audio Visual Alarm with ID fan / FD Fan trip
Fluid Pressure High - Spring Loaded Safety Valve.
Fluid flow low - Audio Visual Alarm with ID Fan / FD Fan tri